No one was talking to us!
Growing up, Career meant – picking up a lane, staying in it and growing your way to the top. While I started out with the same mindset, mid way I realized that my career need not take a linear path. My priorities and expectations from my career changed. As I was deciding what to do next, I realized that I wasn't the only one. While everyone is advising, advocating, guiding blah blah blah about careers to 20 year olds.. As mid-career professionals, we were expected to have it 'figured out' even though our life and circumstances had changed.
No one was talking to us! That's what I set out to do with OfExperiences – equip mid career professionals to thrive through career transitions. We are not career counselors and don't offer a 'prescribed' way to build your career. We help you craft your journey. We help you identify where you are and where would you like to be and handhold you through this entire journey! We recognise that every individual's journey is unique. We also recognise how a lot of our struggles are similar and we will benefit from hearing from those – who came before us! Our logo symbolizes this journey – of a dot traversing through non linear paths to become bigger and brighter at its destination! Walk this journey with us and come out on the other side as more Clear, Confident, Competent.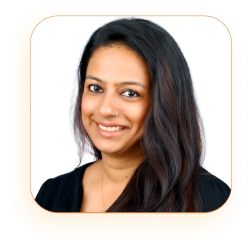 Lochan Narayanan
Founder & CEO, OfExperiences